Result: 24/36
Starting Row: 4th
Call Up: 28th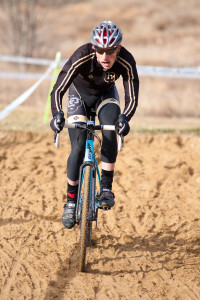 Not much to say about this race.  Overall, I placed slightly higher than I was called up, but, as the race unfolded, it was clear that I need more sustained power in order to realize better results.  This is something that I can't do much about until the off season.  A few bobbles aside, I had consistent lap times which allowed me to pass others whom blew up as the race went on, but there was still a significant gap between myself and the top 20.
The only real issue I can find with this race that was within my control was the number of sections that I bobbled.  None of the mistakes were huge in and of themselves, but, combined, I suspect I lost 20-30 seconds.  The most evident place that I had issues was entering the second sand pit after a 90 degree turn.  In about half of the laps, I missed the entrance to the grove in the pit and had to dismount because of it.  The other place I lost a couple of seconds each lap was on the fast decent during the transition between pavement and grass.  There as a little ramp leading into a 45 degree turn that I instinctively kept braking for each lap.  By the end I was only feathering the brakes, but I was still unnecessarily feathering.  Again, not a ton I can do about this now, except make note of it and hammering my technical skills during the off season.
Hopefully I can pull a rabbit out of my hat for the final race of the season, but I'm bracing myself for a missed goal this season.  I'm not overall concerned about it however as I have big plans for the off season!
Good:
Consistent lap times allowed me to make up positions
Strong sprint off of the line
Remounts with the new pedals were flawless
Bad:
Need more sustained power in order to achieve better results
Too many bobbles on technical sections, especially the sand pits